HIPAA compliance as a service
The U.S. Department of Health & Human Services (HHS) has published a list of seven fundamental elements of an effective compliance program.
Implementing written policies, procedures, and standards of conduct.
Designating a compliance officer and compliance committee.
Conducting effective training and education.
Developing effective lines of communication.
Conducting internal monitoring and auditing.
Enforcing standards through well-publicized disciplinary guidelines.
Responding promptly to detected offenses and undertaking corrective action.
Our solution includes all required audits (security, privacy, and administrative) and gaps and remediation plans, plus full compliance task management, reporting, business associate management, incident management, all policies, procedures, training, documentation, compliance coaching, and a HIPAA hotline.
Policy & Procedure Development
Risk Assessments
HIPAA Security Awareness Training
HIPAA Verification
HIPAA Seal of Compliance
Live Compliance Coaching
Audit Response Program
Business Associate
Management
Incident Management
Breach Support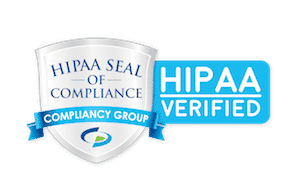 Digital Forensics and
Incident Response